Now it's a case of the best of both worlds for the rising star in environmental toxicology research as he takes on the directorship of USask's Toxicology Centre, along with an appointment as Special Adviser to the Vice-President Research on Strategic Research Partnerships with Germany. 
Brinkmann's ambassador role is geared to advancing opportunities for USask researchers and students in his research-intensive birthplace. 
A third component of USask's retention offer was the Centennial Enhancement Chair (CEC) in Mechanistic Environmental Toxicology—Brinkmann's catch-all summary for the types of research he's been conducting, with a focus on how the proliferation of chemicals affects the environment, especially aquatic life. 
"In the end, I turned down the German offer because it was really attractive to stay here," said Brinkmann. 
He finds USask's environment highly supportive. Compared to German universities, the relationship with students and administration is "more direct and eye-level" instead of being hierarchical at times, he said. 
"During my work with the wastewater surveillance program, etc., I really came to enjoy a direct relationship with the university administration all the way up to the president, who is supportive of the work we do," he said. "That level of support is unprecedented in the German context." 
As well, for someone with four children, Brinkmann finds Saskatchewan supportive of young families, especially with good early education programs. 
"And we came to love the great outdoors, and the things you can do here way more easily—going out fishing with the kids, camping, sleeping in backcountry somewhere just enjoying the serenity—that just doesn't exist in Germany anymore." 
Director of Toxicology
Brinkmann is looking forward to building on the strong foundation laid by his predecessors, such as longstanding director Karsten Liber, who turned USask's program into the No. 1 interdisciplinary toxicology program in Canada, and David Janz, the interim director who steered the program through the rocky shoals of the COVID-19 pandemic. 
The Toxicology Centre has brought together a diversity of scientists from clinical toxicology to biochemical, veterinary and environmental toxicology over the past 40 years, he noted. And it is one of the longest-standing interdisciplinary programs on campus, and one of Canada's only dedicated toxicology programs for both undergraduate and graduate students. 
"So, it's a big responsibility for me as a younger person to come into this role, build on this history, and try to advance it at the same time," said Brinkmann. "Certainly, we have to modernize our programs to appeal to the current demographic of students. But I think that is an exciting challenge to be working on, and that's probably also a good reason to have a somewhat younger person with fresh ideas in this position." 
Chair in Mechanistic Environmental Toxicology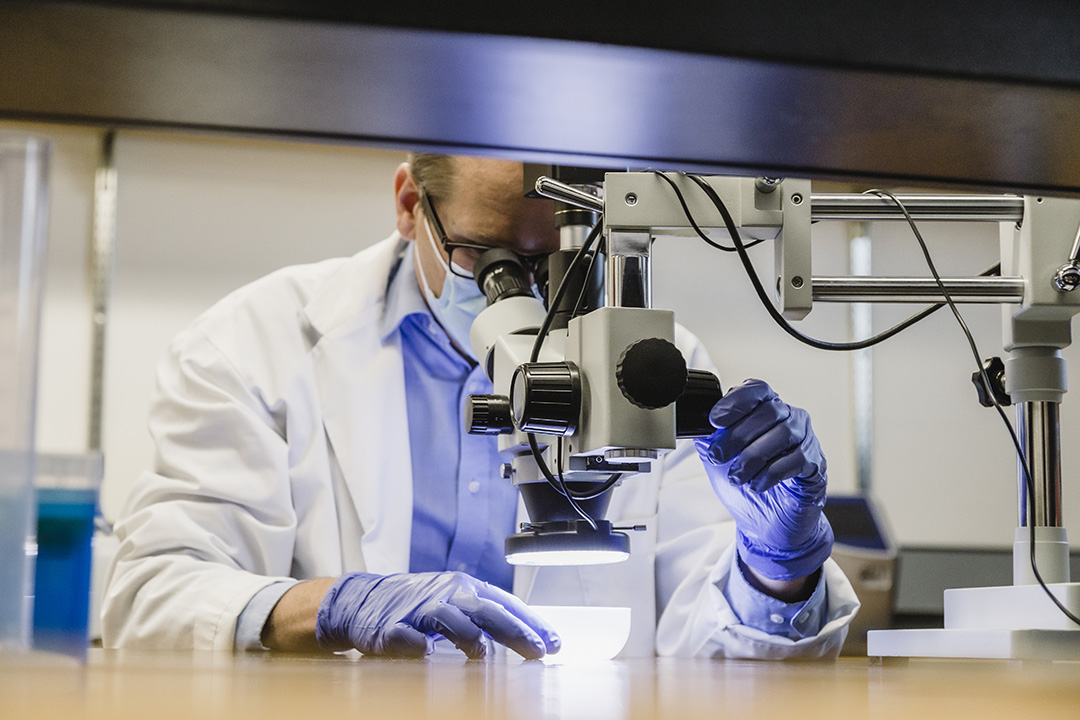 Brinkmann's aim for his research chair is to gain insights into the complex interrelations between environmental components such as water, soils, sediments, and air that are all affected by human activity, and the organisms exposed to these impacts. 
"In my view, we really need to start appreciating that level of complexity rather than ignoring it, which our profession has done quite successfully in the past," he said.  
As an example, he pointed to his research on the toxic compound, 6PPD-quinone, which is created when a protectant in rubber tires called 6PPD is shed on roadways and becomes oxidized. Stormwater carries the toxicant into rivers and lakes, where it poses a deadly threat to several species of fish. 
Extensive testing of 6PPD before its release in the mid-1960s had raised no concerns, Brinkmann said. Only after decades of its use in tires was its transformation in the environment into the toxic 6PPD-quinone discovered. 
"What really drives me is trying to identify how chemicals cause these environmental impacts, and the mechanisms by which it happens."  
Environmental systems are complex and ever-changing, he said. Unlike in a controlled laboratory setting, there's no stable baseline for comparisons. 
"You go out into the environment and, all of a sudden you have fish that just recently spawned in an algal bloom on top of a chemical stressor with potential hypoxia and so on. Maybe there's a wastewater discharge and things like that. It gets really complicated quickly," Brinkmann said. 
Research ambassadorship to Germany
As he joins USask President Peter Stoicheff and Vice-President Research Baljit Singh on a mid-November trip to Germany to sign memorandums of understanding with partners and to discuss building programs of mutual benefit, Brinkmann said his ambassadorship will bring long-term value to USask. 
"Growing international relationships is important to any university, but especially for USask because our goal is to be the university the world needs," he said.  
"We are striving to do a lot of interdisciplinary applied research, and that involves stakeholders at many levels. A lot of our environmental problems, and many of our research tasks—look at the global COVID pandemic—are global issues that we can't tackle by only looking at the regional or national level." 
Brinkmann said USask needs to involve international partners, and Germany is one of the big research engines globally and has one of the highest per capita research spending levels in the world. So, there's an advantage to forming mutually beneficial relationships.  
"With my personal network in Germany as well as across the toxicology and environmental science fields in North America, I'm looking forward to building those bridges and advancing USask's profile regionally and globally," said Brinkmann.