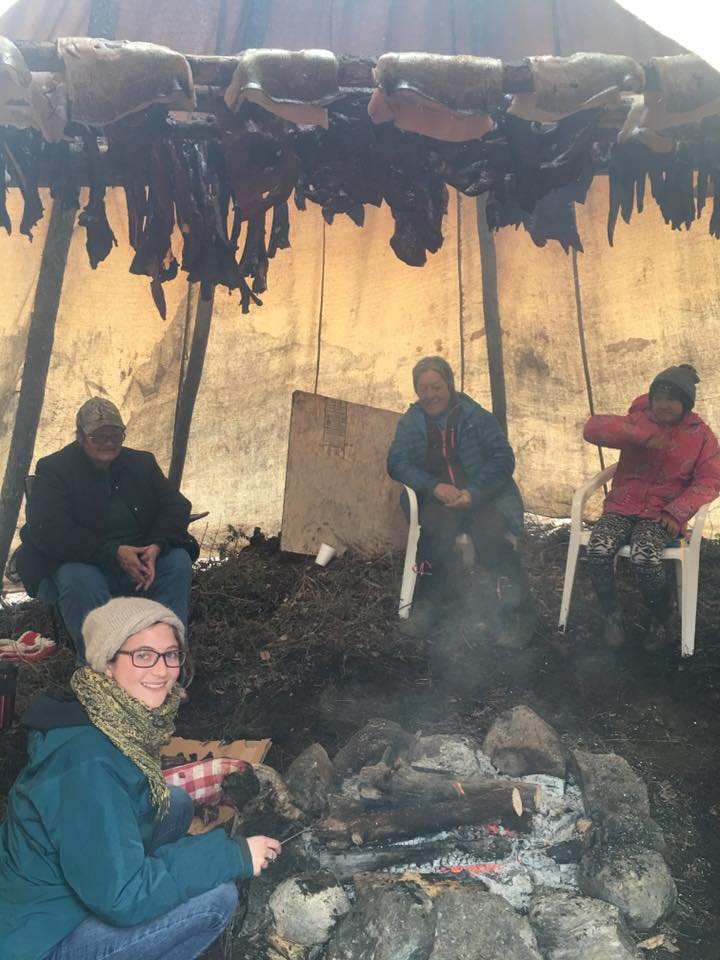 This fall, Master of Environment and Sustainability student Tegan Brock spent four months in northern Saskatchewan working as a Mitacs Accelerate intern for the Lac La Ronge India Band (LLRIB) Lands and Resources Office. Beyond the research tasks associated with the internship, she spent time at several culture camps in and around La Ronge, Grandmother's Bay and Stanley Mission.
"In Stanley Mission, I was in awe watching two women weave together birch bark baskets and canoes, and one in particular who produced the most intricate birch bark bitings. I was encouraged to try it out, and entered into a multi-hour lesson in patience . . . and reward."
In addition to birch bark weaving and biting, Tegan tried her hand at scaling and slicing whitefish to be dried, singeing the feathers off a duck to be stewed and slicing meat to be dried.
"I was clumsy and slow at the tasks, and quickly acquired additional respect for how quick and adept the women are," says Tegan. "As an avid canoeist, I also had opportunities to get out and paddle sections of the Nipikemew River and Churchill River, acquiring a different layer of understanding of place and history of the area."
The Mitacs Accelerate program provides funding for graduate students to work with multiple partner organizations on a defined project. Tegan's role with the LLRIB was to draft a consultation policy framework and develop a presentation and workshop to educate about the duty to consult and how it impacts Indigenous communities and land users.
She is now in the middle of her internship with SaskPower's Aboriginal Relations Department in Regina. There, she's compiling content for a mandatory staff online training module on Saskatchewan's Treaty history, Indigenous rights, land designations, the duty to consult and engagement.
"Being a Mitacs student has helped immerse me in two very different spaces that are relevant to my research," says Tegan. "What stands out as being most beneficial is a more refined awareness of the type of work that excites me, and a fuller understanding of the work that I'd like to be a part of in the future. I've also established an extensive network of professionals through the Mitacs program."
Work completed during the two internships feeds into her research and is directly related to her thesis.
"My thesis research is part of a larger project that partners with SaskPower and Lac La Ronge Indian Band," explains Tegan. "I'm seeking to identify and review current 'good' practices of engagement among proponents, Indigenous communities and government, specifically in relation to land-use decisions within traditional territory."
"Ultimately, I am hoping to provide recommendations that can contribute to the improvement of communications among all parties, particularly in the distinction between 'engagement' and 'duty to consult'."